THE MOST COMPREHENSIVE CLUB FOR CREATING, MAKING, AND FINISHING YOUR MODERN TRIANGLE QUILTS
Make Modern Triangles is the only club of its kind that not only shows you exactly how to create, make, and FINISH your Modern Triangle Quilts - but we "bust our blocks" by working together in community to celebrate all the quilty moments along the way.
REQUEST INVITE >>
Meet Aurora our 2024 BOM 
At the end of the year, you'll have a this gorgeous quilt to show off and you might make a few quilty friends along the way! 👯‍♀️
LEARN MORE & SIGN UP >>
Projects Inside the MMT Club:
Loads of projects, from large to small, ready for you to add your own spin. Here's a sampling of what's inside our Blockbuster Library.
Your "Blockbuster" Quilt in 3 Simple Steps
Your beautiful, modern triangle quilt comes together one triangle block at a time!
Step #1 - Choose your project & Get Your Resources
Whether you need step by step video instruciton or you just want to download the comprehensive pattern PDFs and go, your first step will be to login and get the resources your need. From planning to finishing you'll find resources customized to your skill level to help you finish your blockbuster quilt!
REQUEST INVITE >>
Step #2 - Make Your Modern Triangles!
Modern Triangle Quilts are made up of different modern triangle blocks.
Once you've got your plan and resources, it's time to make your modern triangles!
Download a new audiobook, que up your favorite streaming show and enjoy!
REQUEST INVITE >>
Step #3 - Finish your Blockbuster!
Once your Modern Triangles blocks are complete, the next step is to sew them together to finish your Modern Triangle Quilt.
Snap a picture 'cause we can't wait celebrate toast your Blockbuster in the Triangle Chatter Community!
REQUEST INVITE >>
The MMT Club is Invite Only
Watch this short presentation to learn how to make a Modern Triangle and get a sense of my teaching style. You'll get an invitation to join at the end!
Watch Now For Free >>
now showing (for a limited time)
"Scrappy Whirligig" Modern Triangle Class 
Get started in three easy steps: 
Step 1: Get the Pattern 
You'll get the printable PDF pattern - the perfect quilt for beginners and traditional quilters ready for something new. 
Step 2: Watch the Class 
In this hour long class (replay included), enjoy the step-by-step instruction and leave inspired with color and design ideas. 
Step 3: Start Creating
Enjoy some "me time" and discover how you can go from maker to creator with Modern Triangles.
Hello! I'm Rebecca
Ever since I wrote the book on Modern Triangle Quilts (C&T Publishing, 2017), I've been hosting popular online workshops and Block of the Month programs using "Modern" Triangles so that quilters just like you have all the tools you need to create beautiful modern triangles quilts.
👉 Clear instructions? Check.
👉 Patterns? Check.
👉 Inspiration? Check PLUS!
👉 Friends? Check PLUS PLUS!!
REQUEST INVITE >>
Meet our community!  
Thousands of quilters from all over the world are making Modern Triangles! Together we celebrate all the quilty moments from start to finish. Here's just a sampling of some of the BIG finishes!
Club Projects & Programs
Meet the some of projects included in your subscription to the Make Modern Triangles Club!
THE SOLSTICE QUILT
Introducing the Solstice Quilt! A beautiful symmetry of color and shape creates this stunning and enrapturing "modern triangle" quilt. 
Because the center medallion design never changes, there are 8 size options from baby to king! Choose from of color options, to make it your own.
LEARN MORE AND JOIN >>
THE SPARKLER QUILT
Introducing Sparkler! A beautiful quilt rooted in traditional quilt design but with a "modern triangle" upgrade. 
Choose from a range of size and color options. All the ingredients are here for you to easily add your own twist! 
LEARN MORE AND JOIN >>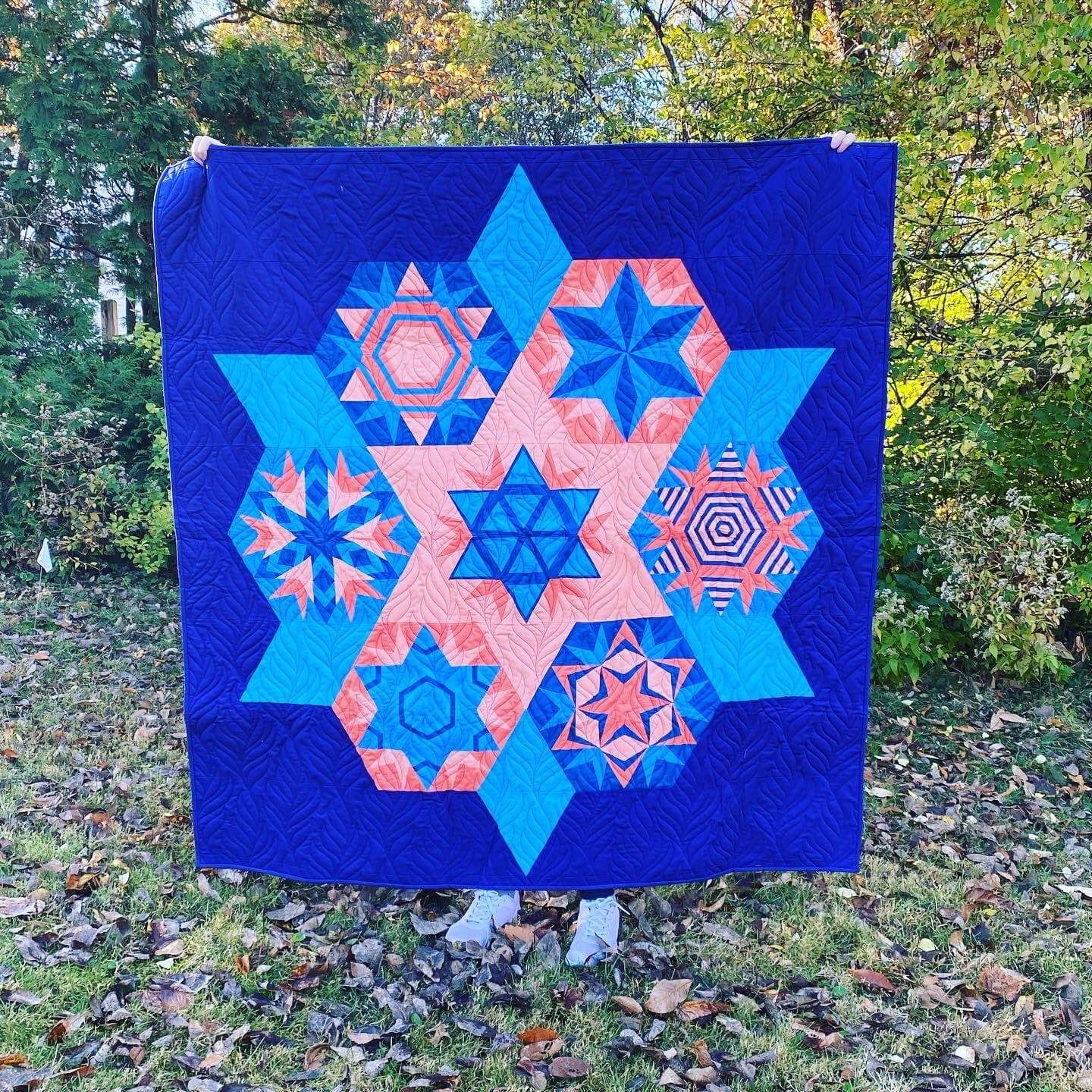 THE WILDFLOWER QUILT
I'm excited to introduce the Wildflower Quilt! Equilateral Triangles from Modern Triangle Quilts are arranged in a compelling symmetry of color and shape to create a stunning and enrapturing quilt. 
Choose from a range of different sizes and color options, or use your own colors. 
LEARN MORE AND JOIN >>
THE STARGAZER QUILT
The Stargazer quilt features right triangles and three sizes: 40'' x 40'', 60'' x 60'', or 80'' x 80''. I made the big, 80'' x 80'' version and my son LOVES it! This quilt was to hang at AQS Paducah, 2020 (darn you Covid!)!
Choose from one of 4 color options, or use your own colors. 
LEARN MORE AND JOIN >>
THE RAINBOW TRIANGLES QUILT 
WOW! Pair pure, lovely color with simple geometries to create a stunning and enrapturing quilt. As shown the Rainbow Triangles Quilt measures 60'' x 60'' and uses the right triangles from the Modern Triangle Quilts Book. 
LEARN MORE AND JOIN >>
Are you a beginner? 
Even if you're just a beginner quilter, you can make modern triangles. In fact, I want to tell you about a special mini quilt I created just for you:
Meet our "Magic Mini"! This little project is perfect for beginners or new members. Not only does it introduce you to our signature technique and Club Hub, you'll make this totally fabulous mini quilt block. All you need to do is follow the program step-by-step!
Spoiler alert, this is just the beginning!
GET YOUR INVITE >>
Get Started with a Free Class Your Adventure Awaits!
Here's how I'm using the "Scrappy Whirligig" blocks in rainbow formation. *drool*
But in class you'll see a handful of different ways you can put your own spin on the block.
Seriously! It's just the beginning!
REQUEST INVITE >>